Zoom the image with the mouse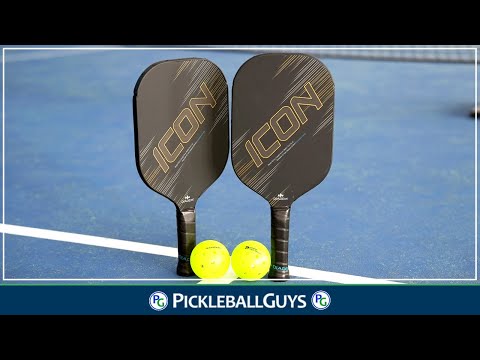 Introducing the highly-anticipated Diadem Icon V2 XL Pickleball Paddle - Diadem's latest evolution of our award-winning Icon. Still utilizing high grade Japanese-sourced carbon fiber in a thin frame, this paddle is the power player's ultimate weapon. While traditional power paddles are usually stiffer and unforgiving, the Icon v2 incorporates several technical features to eliminate harmful vibration making it the most comfortable, arm friendly power paddle Diadem has ever produced.
In its core, Diadem has included their 3xL Core combining two PP honeycomb pieces, each with an 8mm density, joined together with a middle layer of proprietary film that dampens vibration on impact. Power is easily accessible, but comfortable control is available.
The Icon V2 face uses their RP2 Technology, which was pioneered by the concept Vice paddle launched at DIACON 22. It utilizes their proprietary two component polyurethane coating combined with grit paint to create a long-lasting and spin friendly face.
The Icon V2 incorporates a Flex Stabilization (FS) System Technology, originally used in Diadem tennis rackets, that utilizes a high-density foam injection around the outer edge of the paddle. This FS System blended with their Core Molding System not only makes this paddle more stable, but also increases the active sweet spot.
Perfectly balanced and beautifully designed with a sleek but protective replaceable edge guard, Icon V2 players will have the power to control the court against their opponent and look good doing it!
Diadem Icon V2 XL Pickleball Paddle Specs:
Weight: 8.25 oz.
Surface Texture: Rough
Surface Material: Carbon Fiber
Core Material: Polymer
Core Thickness: 13.7 mm
Paddle Length: 16.53 in.
Paddle Width: 7.23 in.
Handle Length: 5.5 in.
Grip Size: 4 1/8"
Edge Guard: Replaceable
Colour: Black
Colour: White
Grip: Diadem Comfort Max
USA Pickleball Approved
Product Code: PB-ICN-V2-XL-BLK
Product Code: PB-ICN-V2-XL-WHT